Hello, fellow scrappers!
Bre here, wanting to show you some of the pretty pages I was able to make with Susan's Sunshine & Roses collection.
I know we have already made it well into Fall in the Northern Hemisphere, but can I just say it's still 80 degrees in D.C. with no signs of slowing down? My roses continue to bloom like crazy- I think the cooler nights are actually making them monstrously big. Between that, and being a notoriously slow scrapper, it felt like the time to break into this kit. I am always scrapping out of season. Some days I wish this wasn't the case, but I really like to take my time to put those special details on a page, ya know? I can't be the only ones- raise your hands, people! lol
Anyway, my type- A personality is good for something- I made these pretty QP for you to purchase in the store if you are so inclined. I love multiple photo pages with plenty of room for storytelling, so if that is something that appeals to you,
take a look
: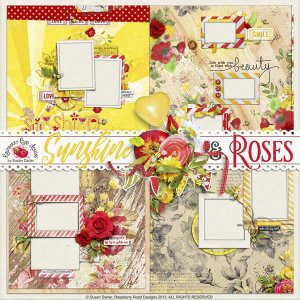 I have made so many pages with this collection- everything from snuggling my sweethearts to playtime with my toddler at the playground. Here are some more detailed shots:
(the roses aren't part of the page, of course, but I want my girly's bits covered :P)
Look at them! So many different pages, and I honestly don't think any of them technically fit the theme of the collection. I love how diverse Susan's collections are- you can use them for anything! I actually have a few more I want to make, including some cooking pages (there are some amazing watercolor fruits in this kit!) So amazing. If you like my work you can pick up the QP set
here
for a steal during the sale going on now!
I also made one more page that was a bit simpler and different from the others, so I thought I would make a goodie for you. This page celebrates my running group. If you are a woman looking for running companionship, I would highly recommend you look up your local Moms Run This Town group on Facebook or online. They are all amazing and supportive, even if you aren't a mom.
Pick up this freebie for a limited time
HERE
. Thanks so much for reading, and I will be back with another winter set shortly :)